This is an archived article and the information in the article may be outdated. Please look at the time stamp on the story to see when it was last updated.
CHICAGO — In a 5-4 decision, the U.S. Supreme Court ruled Friday that same-sex couples have the right to marry in all 50 states, meaning the 14 states with bans on same-sex marriage will no longer be able to enforce them.
The ruling added to the excitement at Pride Month celebrations across the country.
In Chicago, same-sex marriage supporters joined Mayor Emanuel for a champagne toast at the bar Sidetrack. It's a decision that some there said they didn't think they'd ever see in their lifetime.
Emanuel got emotional while speaking to the packed house. He was joined by openly gay leaders, including Illinois State Representative Greg Harris, Aldermen Tom Tunney and Alderwoman Deb Mell.
Lambda Legal, a national organization that was co-counsel on one of the landmark cases that was decided on Friday, passed out T-shirts that read "Love Rules." The group says the timing of the decision as the city prepares for the annual Pride Parade only adds to the celebration.
Same-sex marriage was legalized in Illinois last year. Civil unions performed in Illinois before then were allowed to be converted.
Turnout is expected to be even bigger at Sunday's Pride Parade in Chicago, because of the Supreme Court's decision.
The parade route stretches four-miles long.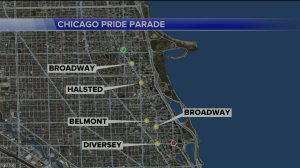 It kicks off at noon at Montrose Avenue and Broadway, then heads South to Halsted Street to Belmont Avenue. From there, it goes back down Broadway to Diversey Parkway.
Be sure to look for the WGN float in the parade. Bozo the Clown will be there, along with Sean Lewis, Tom Skilling, Dean Richards and Muriel Clair. Also Demetrius Ivory, Erin McElroy, Paul Lisnek and Courtney Gousman.