This is an archived article and the information in the article may be outdated. Please look at the time stamp on the story to see when it was last updated.
Hundreds of fast food and retail workers in Chicago walked off their job Wednesday in a campaign to push for higher wages.
The Fight for $15 campaign said it expects McDonald's, Subway, Dunkin Donuts, Macy's, Sears and Victoria's Secret stores in the Loop and Magnificent Mile to be affected.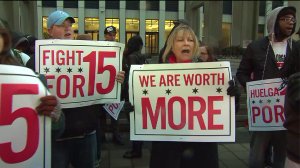 The strike began around 5:30 a.m. at the McDonald's inside Union Station. A rally is planned for 4 p.m. at the St. James Cathedral near Huron and Rush streets.
Employees will march in the Chicago Loop and near the Mag Mile shopping area and call for $15-an-hour.
In addition to higher pay, Fight for $15 is pushing to organize a union for workers so they can support their families, and put money back into the economy.
The group said, "Fast food and retail workers bring more than $4 billion a year into the cash registers of the Magnificent Mile and the Loop, yet most of these workers earn Illinois' minimum wage of $8.25, or just above it."
The Chicago Tribune contributed to this report