This is an archived article and the information in the article may be outdated. Please look at the time stamp on the story to see when it was last updated.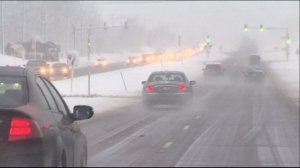 As the snow starts to fall across the Chicago area, officials are preparing to keep the roads clear ahead of the Tuesday evening rush hour
The Illinois Tollway has activated its full fleet of 182 snowplows in response to snow falling system-wide during this morning's rush hour and increasing in intensity throughout the day and continuing through the evening.
For the latest updates, go to wgntv.com/traffic or follow WGN's traffic on Twitter @ChicagoDrives
Here are some of the latest traffic tweets:
LSD is prepped & ready for storm! Those removable medians put in after the crazy Feb storm in 2011 have been removed as precaution

— WGN-TV Traffic (@WGNtraffic) March 5, 2013
Interstate highway conditions: http://t.co/hm6D3WqVIy #snow

— IDOT (@IDOT_Illinois) March 5, 2013
Heavy #snow is expected in parts of IL Tuesday. Be safe on the roads! Buckle up, slow down, & leave plenty of following distance.

— IDOT Safety (@IDOTSafety) March 5, 2013