This is an archived article and the information in the article may be outdated. Please look at the time stamp on the story to see when it was last updated.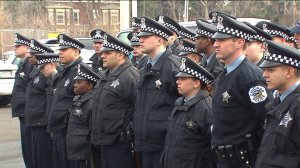 Chicago Police have dropped the application age to join the force from 25 to 18 in an effort to increase the number of eligible applicants.
The age to take the exam was raised to 21 three years ago, with applicants allowed to enter the academy at age 25.
Critics said that the police department cut off many qualified candidates who wanted to begin their career immediately.
The new age requirements will help to close this gap and provide a shorter time span applicants will have to wait to enter the police academy, Chicago police spokesperson Adam Collins said.
Applicants can now take the entry exam at 18 and enter the academy at age 21.
The new rule will apply for the next exam which will be held later this year.