This is an archived article and the information in the article may be outdated. Please look at the time stamp on the story to see when it was last updated.
CHICAGO — A Chicago police and Norfolk Southern Railroad investigation that used a "bait truck" loaded with goods and was left parked in Englewood to lure potential thieves has come under fire after a Facebook video went viral.
A video posted on Facebook by Charles Mckenzie, 29, last week appears to show officers arresting a man near 59th Street and Yale Avenue after he allegedly broke into a white truck in Englewood. The truck had Nike shoes inside, according to Mckenzie's post.
A spokesperson for Norfolk Southern Railroad, Susan Terpay, told the Chicago Tribune that police have often used bait trucks to catch people in the act of robbery or theft. The Tribune said Terpay defended the operation and said these sting operations are tactics used by police to crack down on patterns of theft in certain areas.
Ald. Roderick Sawyer, 6th district alderman and chair of the Chicago City Council Black Caucus, said the bait truck operation was "unacceptable" and an "inappropriate use of police resources."
"In a moment where police capacity is clearly under extreme strain, these sort of tactics are the last thing we should be spending manpower and energy on," he said in a statement. "This initiative serves only to undermine already fragile efforts to build trust between law enforcement and the community, and to reinforce counterproductive policies that have contributed to the mass incarceration of black youth in our city."
He thanked Mckenzie for posting the video of the incident so the public and media could examine it.
The American Civil Liberties Union responded to the incident as well. Karen Sheley, director of the Police Practices Project at the ACLU of Illinois issued the following statement:
"Police in Chicago must focus on building trust and better relationships within the communities they serve, not engage in stunts like bait trucks. The Chicago Police Department admits that it can't solve murders and violent crimes because communities of color don't trust the Chicago Police. These stunts won't help. Instead, police should focus on reform and improve outreach to communities that have too often been the target of police abuse."
According to the Tribune, Chicago police referred all inquiries to Norfolk Southern Railroad,  and said police only assisted the railroad in the investigation.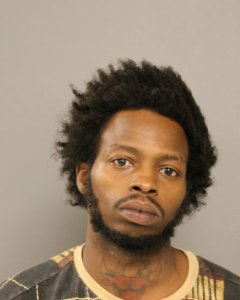 David King, 36, was arrested Aug. 2, the day Mckenzie's video was posted, and charged with burglary, the Tribune reports.
The Tribune reports that an arrest report of the incident said police was working with Norfolk Southern Railroad near 59th Place and Princeton Avenue on Thursday. Officers saw two people approach the back of the truck and break its seal. Police then saw those two people open the trainer door being fleeing. Police then saw King enter the trailer. The Tribune said King ran from police but was quickly caught and taken into custody.
King is deaf and communicates through sign language. King told police, with an officer present who understands sign language, that he entered the truck to take food.
King's next court date is Thursday morning.