This is an archived article and the information in the article may be outdated. Please look at the time stamp on the story to see when it was last updated.
Runners who couldn't sign up for a spot in this year's Chicago Marathon because of a computer glitch will now have another shot via a lottery.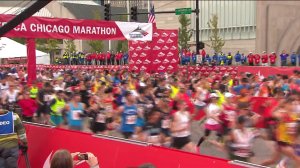 Technical problems on the marathon's website last month forced registration for October's big race to be suspended.
As a result, 15,000 open slots were left in limbo.
But now marathon officials have come up with the lottery option to fill out the big race.
Name entries will be able to be submitted at the marathon's website.
Starting Tuesday at midnight through 9 p.m. Thursday, March 7.
Those selected will be notified next Tuesday and then have until March 14 to complete their official registration and turn in their race entry fee.
Officials say entry time or order won't affect chances of selection.
To register, go to: lottery.chicagomarathon.com