This is an archived article and the information in the article may be outdated. Please look at the time stamp on the story to see when it was last updated.
CHICAGO – The weather outside is frightful, but not to Chicagoans, who may find a new study delightful.
According to consumer service website Thumbtack, Chicagoans on average wait until there are 8.8 inches of snow on the ground before requesting private snow plows, a measure Thumbtack says reflects the city's toughness in living with inclement weather. Chicago trailed only Buffalo, N.Y., in the study.
Thumbtack, through which consumers can book a wide array of services, collected data for 2 1/2 years for its new report. In the study Buffalo led the way with a wait time of 9.7 inches. Chicago was second, trailed by Colorado Springs, Colo., at 7.37 inches. Springfield, Mass., came in last, with their residents waiting only .67 inches before requesting snow plow services.
To put it in more perspective, other major cities that go through tough winters trailed dramatically behind Chicago, including Boston (3.6 inches) and Minneapolis (3.69 inches).
Thumbtack's study only tracked snow plow requests through the business' website, and did not include requests for city snowplows.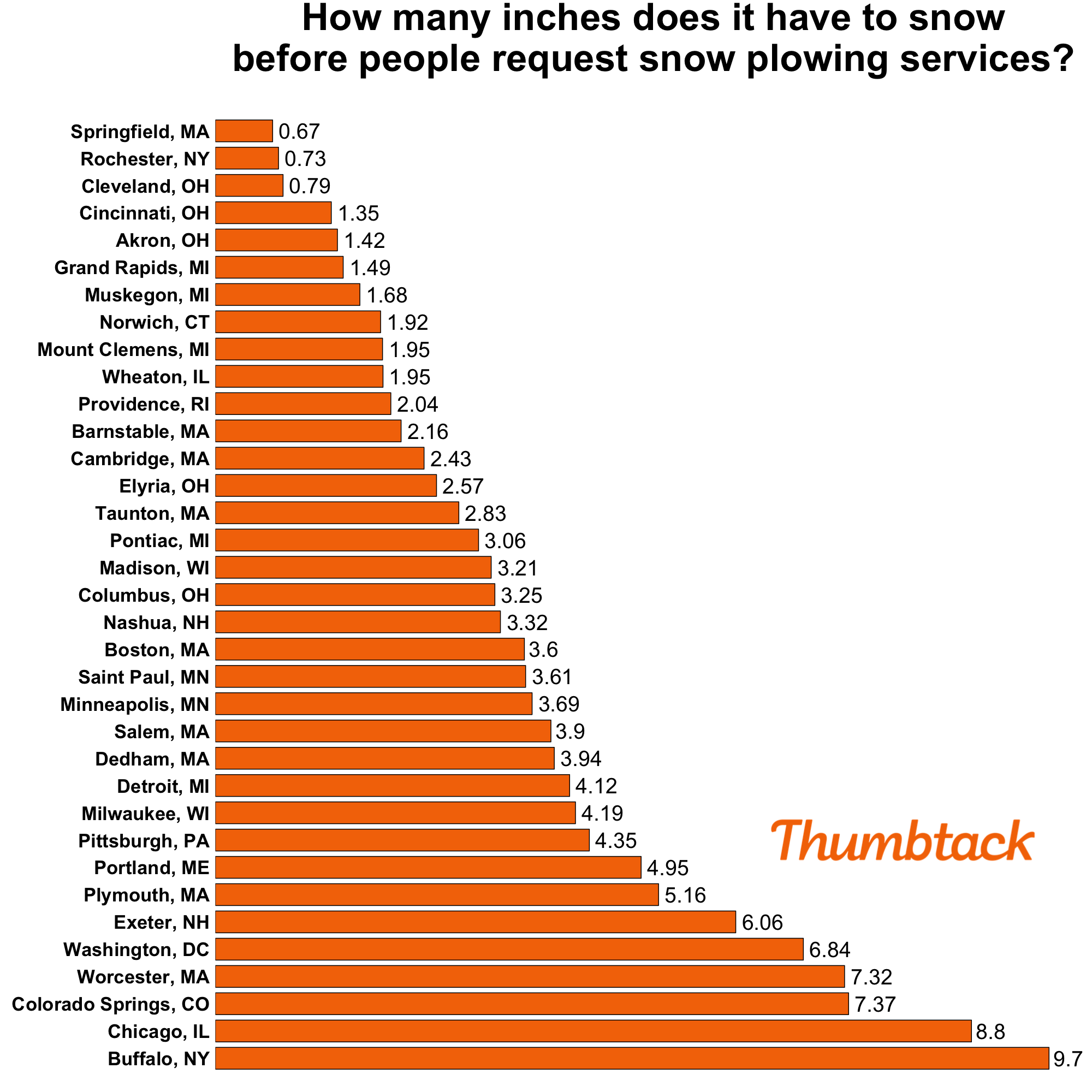 Chicago in 2015 has experienced a rather mild winter so far, but did experience light snow during Wednesday morning's commute. Hail and sleet also snarled travel in and out of the city earlier in the week, with O'Hare and Midway airports canceling hundreds of flights on Monday and Tuesday.
But if Thumbtack's findings are true, Chicagoans will not be caught off guard when the heavy snow does arrive.