This is an archived article and the information in the article may be outdated. Please look at the time stamp on the story to see when it was last updated.
The sounds of St Gregory's church choir rang through O'Hare's terminal two Saturday morning.  They group preparing to depart for the trip of a lifetime, with divine timing.Patrick Godon directs the 55 chorus members. Two years ago, the choir from Chicago's Andersonville neighborhood got a letter from the Vatican– an invitation to sing.
"In 2007 we went to sing at St. Peters and sang a concert in Rome and somebody there remembered us and we got a letter two years ago, inviting us to sing at St. Peters."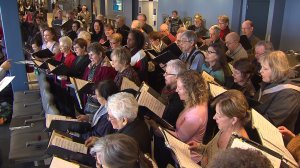 The timing of the trip, quite coincidental– but coinciding with the election of a new pope.
"To have all this happen now when the new pope will be probably installed around that time, we could even see the white smoke, ya know?  It's amazing—amazing."
The choir will perform for the next week, inside the Vatican walls and outside in Rome, all the while, keeping an eye toward a performance at St. Peters March 17th— perhaps some of the first voices of song heard by a new pope.
"To know that we're there during this historic time, just trying to take it one day at a time and just be at peace and live in the moment.  I try to tell the choir if you live in the past you're going to be depressed.  If you live in the future, you're going to be anxious, but if you live in the moment, you'll be at peace."
Good words of advice from a choir leader, reveling in what some could call timing that's heaven sent.