This is an archived article and the information in the article may be outdated. Please look at the time stamp on the story to see when it was last updated.
HIGHLAND PARK, Ill. — A suburban woman who suffers from a rare condition that has inhibited her public life for years is now stepping out and having her story heard — and her face seen.
Lisa Goodman-Helfand, 40, from Highland Park, Ill., suffers from scleroderma, an ailment that affects the skin, tissue and body framework, often causing body disfigurement and skin blotching. When she recently tried to boost a post for an advertisement on Facebook linking to a story about the condition and showing her face, Facebook denied her. It was her first push to get the message out.
"I had never showed my bare face to anyone but my immediate family," Goodman-Helfand said. "When I would go to take the garbage out, I would put makeup on."
Goodman-Helfand's face without makeup shows much of her skin covered in purple and red splotches. But the scleroderma effects don't end there. She also suffers from disfigurement; her legs arms are contracted, her fingers don't extend and she has limited motor skills. In 2006, when she gave birth to her second child, she said her condition contributed to several medical complications; she ended in the hospital for 218 days, lost her colon and spleen, was temporarily paralyzed and had two tracheotomies.
Yet Goodman-Helfand considers herself one of the lucky ones. "Since I've recovered, my disease is most likely not going to shorten my life expectancy," she said. "For others it is."  Her plea to Facebook came not only from the desire to get her own message out, but also to include the story of another woman, Chanel, who suffers from the condition. An image accompanying the story showed Goodman-Helfand's face, unmasked by makeup, next to Chanel's.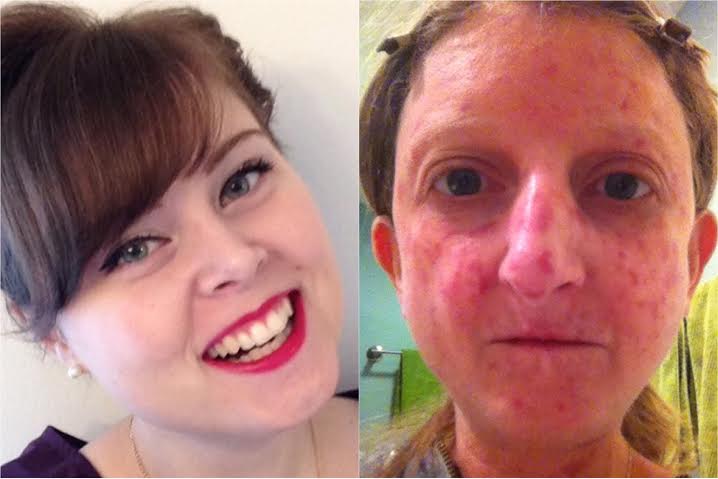 But Facebook initially told Goodman-Helfand the ad could not be approved, saying,
"Your ad wasn't approved because it includes "before and after" images, or other images showing unexpected or unlikely results. It's also recommended that you avoid focusing on specific body parts, because these images typically receive high negative feedback."
Facebook later changed its tune, after declining her a second time and after Goodman-Helfand wrote a blog post on the ordeal, and on Tuesday it told Goodman-Helfand it would be reviewing its ad policy.
In a statement to WGN, Facebook spokesman Mike Manning said,
"Our team processes millions of reports and advertising images each week, and there are times we make mistakes. In this case, we prevented two posts from being boosted that did not violate our policies, and we want to apologize for this. The boosted posts have since been approved, and we are taking steps to prevent this from happening again."
Though she considers her battle with Facebook "old news" now, Goodman-Helfand says it exemplified a larger point she was trying to teach: issues about "body images, self-esteem and how we treat each other," as she put it. "People make a first impression and its largely based on appearance," she said. "That's not going to change. What's important to change is what comes next," she said.
Goodman-Helfand added that people often in her experiences "make conclusions" about disfigured or different-looking people, such as that they are sick, contagious, or not worth talking to. She'd rather people say, "So what if she looks different. So what if they have a mole on their face. OK. Let's move on," she said.
Borne out of the battle with Facebook came the launching of a new campaign, on which Goodman-Helfand hopes to build. The "Face Off for Scleroderma" campaign launched recently with a blog post and a hashtag. The name came with some help from her husband. The hashtag, #SclerodermaSelfies, came with the help of a friend. It was later featured in Cosmopolitan magazine, as hundreds on social media joined in showing makeup-less faces to raise awareness. Even celebrities took part in the movement.
"The message isn't, 'Were going to change the world,'" Goodman-Helfand said. The focus, she said, was: "Can we redefine our concepts of beauty in a way that will make people feel more comfortable."
She said the campaign has been a good start. "This tremendous overflow of support has truly renewed my faith in humanity," she said.
Goodman-Helfand has also written a book detailing that painful stay in the hospital. "Does This Hospital Gown Come With Sequins (and Other Questions Asked During MY 218-Day Hospital Stay" is available online.
Goodman-Helfand says going forward she hopes her campaign and her blog encourage compassion toward others and empathy towards patients. Since that initial decision to show her unaltered face, Goodman-Helfand said she was met immediately with tremendous support — support she hopes continues.
"It's been an overwhelmingly positive and remarkable turn of events," she said.
Goodman-Helfand is a professional public speaker and an elementary school teacher in Skokie, Ill. She lives in Highland Park with her husband and two children.