This is an archived article and the information in the article may be outdated. Please look at the time stamp on the story to see when it was last updated.
ORLAND PARK, Ill. — A retired priest was charged Saturday afternoon in a hit-and-run crash that left one Orland Park Catholic school teacher dead and another injured. The Rev. Paul Burak, 73, was charged with aggravated DUI and leaving the scene of an accident — both felonies.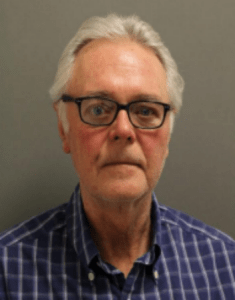 Police said Burak attended the St. Michael School's Christmas party that both of the teachers attended Wednesday evening. The women were identified as Margaret "Rone" Leja, 61, a technology teacher, and Elizabeth Kosteck, 54, a third grade teacher.
On Friday, Orland Park police said a person was in custody, but did not release their identity until Saturday's press conference. 
The hit-and-run happened around 8 p.m. Wednesday near the Square Celt restaurant, at 39 Orland Square Drive. The two women both attended the party at the restaurant, and were walking to their cars when they were struck by a vehicle. The women were transported to Silver Cross Hospital. Leja was pronounced dead at the hospital, and Kosteck was treated and released.
According to court documents, Burak did admit to drinking at the Christmas party before getting into his vehicle.
Prosectors said a witness took a picture of his license plate and told Burak to go back to the scene. Court records show Burak drove back to the restaurant and hit the bumper of a car while attempting a three-point turn.
At that time, A St. Michael's priest came out of the restaurant and ended up driving Burak home. Police said no one realized what happened close by.
Defense attorneys said Burak has Parkinson's disease and glaucoma.
Surveillance video captured the entire incident. Police said Saturday that the car in question was located Thursday and the owner of the vehicle was taken into custody that same day.
It is unknown whether or not Burak knew the two teachers. Burak appeared in court Saturday where bond was set at $10,000. The Chicago Archdiocese issued the following statement:
The Orland Park Police have announced that the retired pastor of St. Michael Parish in Orland Park, Fr. Paul Burak, has been charged in the December 4 accident that took the life of Margaret (Rone) Leja and injured Elizabeth Kosteck, both teachers at St. Michael School (Orland Park). We are cooperating with the Orland Park Police and have no further information at this time. As a community we continue to grieve the loss of Ms. Leja and the injury to Mrs. Kosteck. We again offer our heartfelt condolences, support and sympathy to their families and are keeping them and all affected by this tragedy in our prayers.