This is an archived article and the information in the article may be outdated. Please look at the time stamp on the story to see when it was last updated.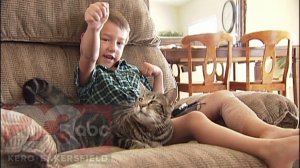 The cat that saved a boy from an attacking dog is being treated like a hero.
In a video that went viral this week, a 4-year-old boy was playing outside of his home when he was attacked by a dog.
But then the boy's cat, Tara, comes to the rescue and chases the dog away.
The video of the rescue has been watched more than 7 million times on you-tube.
Now Tara the Cat gets to throw out the first pitch at a minor league baseball game in Bakersville, Calif., on Tuesday night. The family is expected to help.
Fans who bring pet food or new pet toys get half price tickets.
It's official! Local HERO CAT will be throwing out a first pitch on Tuesday, May 20th! @TheHeroCat

— Bakersfield Blaze (@BakoBlaze) May 15, 2014