This is an archived article and the information in the article may be outdated. Please look at the time stamp on the story to see when it was last updated.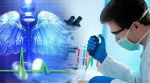 Analyzing the chemical signature of a patient's exhaled breath, scientists from Israel and China say they were able to diagnose stomach cancer.
Currently the test for stomach cancer is an endoscopy where a tube is inserted through the mouth and into the stomach.
This is a far easier option.
The nano-material sensors were 90-percent successful in distinguishing cancer from other stomach ailments.