This is an archived article and the information in the article may be outdated. Please look at the time stamp on the story to see when it was last updated.
A Santa Monica wrestling coach is on administrative leave after wrestling a student.
Police say the coach caught the student dealing drugs in a classroom.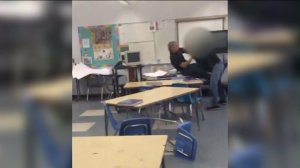 After confronting him, the student hit the teacher in the face.
The teacher says he used self-defense, to wrestle the student to the ground.
The student pleaded not guilty today to five misdemeanor counts, stemming from the fight.
An investigation into the coach's actions, is ongoing.