This is an archived article and the information in the article may be outdated. Please look at the time stamp on the story to see when it was last updated.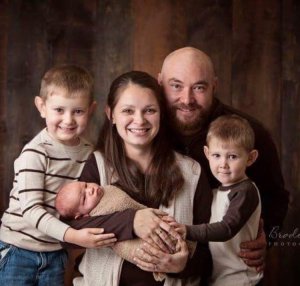 BEECHER, Ill. — A third child has died after a horrible crash in unincorporated Beecher earlier this week.
A family member confirms to WGN that 6-year-old Owen Schmidt has died.
Owen's mother Lindsey, who was four months pregnant, was killed in the crash, as well as his brothers 1-year-old Kaleb and 4-year-old Weston.
On Monday morning, a pickup truck slammed into the car that Lindsey Schmidt, 29, was driving. The driver of the truck was issued a traffic citation.
Will County Sheriff's Department spokeswoman Kathy Hoffmeyer says investigators are trying to determine if the driver should face charges. Police will examine his cellphone to see if he was texting when the crash occurred.
The driver's name has not been released. Hoffmeyer says he remains hospitalized after suffering a fractured wrist, shoulder and ankle, bruised lungs and a lacerated arm.
A donation fund has been set up for the Schmidt family at First Community Bank and Trust in Beecher and Peotone. All donations must be made directly to the bank and cannot be made online at this time, a family representative said Thursday.