This is an archived article and the information in the article may be outdated. Please look at the time stamp on the story to see when it was last updated.
Two children, ages five and seven, are among the many victims of shootings across Chicago.
Since Wednesday afternoon, gun violence has killed eight people, and wounded 30 others.
Jaden Donald, 5, was one of three people shot late Thursday night at Cooper Park in the Roseland neighborhood.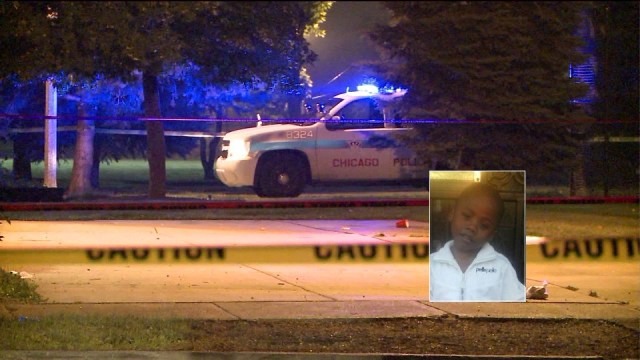 He had gunshot wounds in his stomach and thigh.
Jaden, his three siblings and his mother were on their way home from a family holiday gathering when they stopped at Cooper Park to visit with friends.
"The next thing you know I thought it was fireworks still going on and there was a guy standing on the opposite side of the street shooting in the park and let off about 30 rounds," Jaden's mother, Jasmine Dillon Donald said. "Everybody ran, and the other kids got down, my son tried to run to me, I was running toward him."
Donald said she remembered her son calling out for her after he was shot; Jaden told her he couldn't breath.
Jaden came out of surgery at 5:30 Friday morning. Doctor's at Christ Advocate Memorial Hospital removed Jaden's kidney, pancreas and spleen.
"I never even dreamed  something like this could happen," Donald said. "When you see stuff like this on the news you never really actually think that it's going to happen to you, to your child. It makes me want to go in the house with my kids and never come out."
Earlier Thursday evening, a 7-year-old boy was shot in the neck while standing in Coles Park on East 85th Street.
Police said they think the shooter was trying to hit a car across the street.
He is hospitalized and has not yet been identified.
Both boys remain in critical condition.
Cole Park is where Officer Thomas Wortham IV was shot and killed in May, 2010. Wortham had worked to make that park safe for kids in that community.
No arrests have been made yet in either cases. Police hope surveillance video from cameras near both parks can help provide some answers.
According to the Chicago Police Department, there three murders and 16 shootings on Thursday. Police Supt. Garry McCarthy issued this statement about the recent violence:
"No shooting or murder is acceptable and everyday Chicago Police work to combat crime and violence in close partnership with the communities we serve, members of the clergy, local organizations, principals, parents and residents because we all have a role to play in the safety of our city. Our comprehensive policing strategy and our internal accountability measures ensure that officers are deployed in the right places at the right times, and that Commanders and officers have the resources and intelligence they need to prevent and quickly respond to crime. While to date we've had significantly fewer shootings and significantly fewer murders this year, there's more work to be done and we won't rest until everyone in Chicago enjoys the same sense of safety."