This is an archived article and the information in the article may be outdated. Please look at the time stamp on the story to see when it was last updated.
CHICAGO — The Civilian Office of Police Accountability (COPA) released bodycam video of the fatal police shooting of 24-year-old Maurice Granton Jr., who was shot while fleeing from officers June 6 in Bronzeville.
Through their attorneys, Granton's family called for the release of all video and audio in connection to the incident, saying in their opinion, he should still be alive.
Police said officers were attempting to question Granton after spotting him taking part in an alleged illegal drug transaction, and he then ran from police. As he was fleeing, authorities said he "produced a weapon" and was shot by an officer. An autopsy later found he was shot in the back.
CPD later tweeted a photo from a police surveillance camera that they say shows Granton taking that gun in and out of his pocket.
UPDATE; Video prior to last night's officer involved shooting shows offender holding what turned out to be a semi automatic handgun that was later recovered by officers. pic.twitter.com/6nTI90CFsm

— Anthony Guglielmi (@AJGuglielmi) June 7, 2018
It was this video and the alleged drug transaction that led to tactical officers being dispatched to the area of 47th and Prairie, police said. Granton fled when they arrived on the scene.
Bodycam video from one officer appears to show the chase underway, and Granton hopping a fence. The officer hurts his foot and stops his pursuit.
Video shown from a second officer pursuing from an opposite direction appears to show Granton beginning to scale a fence before the officer opens fire. Portions of audio can't be heard from the shooting officer's bodycam because CPD says the camera was buffering.
Note: WGN is showing this still which occurs immediately before the fatal shooting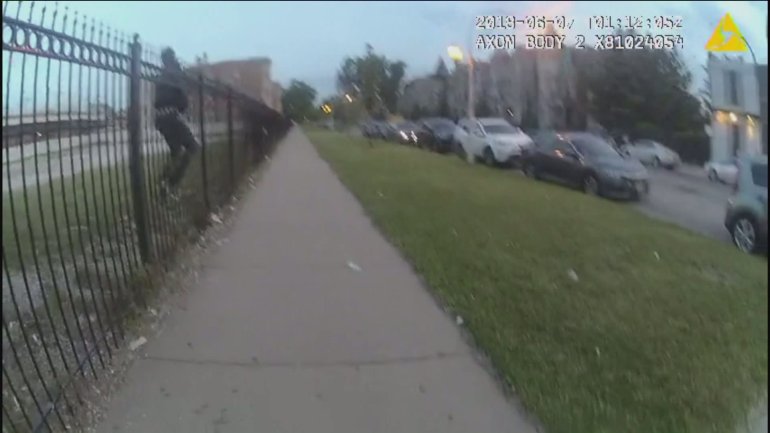 After Granton is shot and is on the ground, the officer who shot him can then be heard telling fellow officers that he sees a gun nearby.  The officer was placed on 30-day administrative leave, in line with department policy.
After first showing the video to Granton's family, COPA released it to the public Wednesday. Family members said there are still a lot of unanswered questions. Granton family attorneys Tony Romanucci and Andrew Stroth say in their opinion the shooting death was unjustified.
This is a developing story. Check back for more updates.