This is an archived article and the information in the article may be outdated. Please look at the time stamp on the story to see when it was last updated.
A fisherman discovered a body in the Des Plaines River behind Hollywood Casino in Joliet Saturday morning.
Police say it may be a woman who was allegedly murdered nearly a month ago.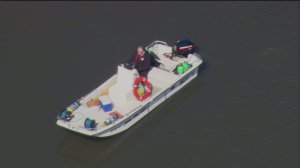 An autopsy found the woman pulled from the river Saturday, died from stab wounds, though she was not positively identified.
Police say evidence suggests it's the body of Jeannie Parker.
She's been missing since late March, when her 21-year-old son told police he stabbed her to death, and dumped her body in the Des Plaines river.
Charles McCullum is charged with murder.
A vigil for Parker was scheduled to be held at Bicentennial Park in Joliet Sunday evening.