This is an archived article and the information in the article may be outdated. Please look at the time stamp on the story to see when it was last updated.
By Shannon Ryan, Tribune reporter
Blackhawks coach Joel Quenneville said he would have "no frill" in his pregame speech. Patrick Sharp scoffed at the idea of being nervous.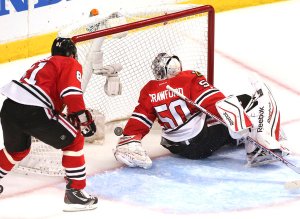 What the Blackhawks bottled up in emotion before the game, they let loose Sunday night during Game 7 of the Western Conference finals.
They didn't go down without a fight.
In a series that has been filled with more unbelievable twists and turns than a soap opera, it was only fitting that the game was decided in overtime, the Kings a 5-4 winner on a Tyler Toffoli goal.
The Kings became the first NHL team to win three Game 7s on the road in the playoffs, and advanced to their second Stanley Cup Final in three seasons.
After so many magical victories by the Blackhawks, who had fought back from a 3-1 deficit behind the efforts of Patrick Kane to force Game 7,  the Kings had the last big play.
A Kings goal by Alec Martinez slipped behind goalie Corey Crawford after the puck bounced off of Hawks' defenseman Nick Leddy at the 14:13 mark, and the Hawks' bid to repeat as Stanley Cup champions was denied.
This was the first conference finals Game 7 overtime since 1994.
For more on this story, go to ChicagoTribune.com