This is an archived article and the information in the article may be outdated. Please look at the time stamp on the story to see when it was last updated.
The Chicago Blackhawks and WGN-TV have announced a three-year extension of the station's television rights.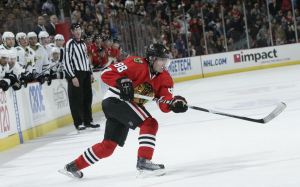 Chicago Blackhawks' President John McDonough and Tribune Broadcasting President Larry Wert made the announcement Thursday on the WGN Midday News.
The extension will keep Blackhawks hockey on WGN-TV through the end of the 2018-2019 season, even though the current agreement is not set to expire for another two years.
"WGN-TV is synonymous with Chicago and is the perfect partner to continue to help serve our expanding fan base," said Blackhawks President & CEO, John McDonough. "From Lloyd Pettit to Pat Foley, WGN-TV has been a highly-valued member of the Blackhawks family."