This is an archived article and the information in the article may be outdated. Please look at the time stamp on the story to see when it was last updated.
Something pretty special happened behind the scenes during our WGN Midday newscast on Friday.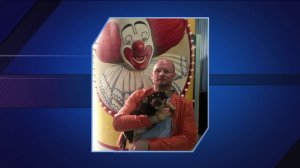 New York Times best selling author, Augusten Burroughs was here talking about his latest book. He also fell in love with one of the dogs from our Friday Adopt-A-Pet segment.
WATCH: Augusten Burroughs's talks about his new book on WGN Midday News
Burroughs held the dog and even took a photo, but eventually he had to leave for another interview.
He sent the picture with the puppy to his husband saying they had the same expressions on their faces.
His husband wasted no time, contacting the women at "A Heart For Animals Shelter" arranging to adopt the dog. Burroughs called it fate. He said he never would have seen the puppy, if his driver had not arrived at WGN earlier than usual.
WATCH: Friday's Adopt-A-Pet segment featuring the puppy
He posted about it on Facebook saying: "If there hadn't been a glitch and I hadn't arrived at the TV studio over an hour early, there wouldn't be a puppy with flying-nun ears waiting for me when I get home next week."