This is an archived article and the information in the article may be outdated. Please look at the time stamp on the story to see when it was last updated.
March Madness is upon us! Here are some apps you should check out while watching your favorite college basketball teams.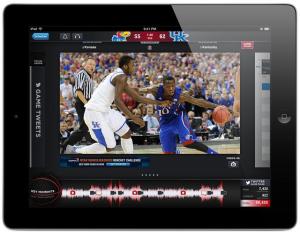 NCAA March Madness Live
Free for iOs and Android
NCAA March Madness Live is the tournament's official app and you can live stream all the games on it. But, naturally, there's a catch. You have to enter your cable provider's information into the app in order to watch the games. Within the app, you can see (and respond) to the Twitter and Facebook reaction happening during the games as well as track the entire bracket live throughout the tournament.
Simple Bracket
99 cents for iOs
Simple Bracket is an app for filling our March Madness college basketball brackets and competing with friends, family and co-workers. It's easy to use and the design might seem boring to some but I love how simple it is. You have to sign into the app with your Twitter account, so that might be a deal-breaker for some friends and family who aren't on Twitter. But hopping on the Twitter bandwagon just in time for #MarchMadness might not be such a bad idea!
FanCake
Free for iOs and Android
FanCake brands itself as a "live social game" that rewards fans for watching sports on TV. Like FourSquare, you "check-in" to the game you're watching, and then you score points and earn credits for accurately predicting game outcomes. You can trade in your credits for prizes, like sports gear. And, you can use this app for all sports games (not just March Madness).
SportStream
Free for iOs
SportStream helps you customize the social media sports coverage that you want to hear, bringing the best tweets, Facebook posts and other news content right to you. See what coaches, players, super fans and you friends are saying, and then join the conversation. Plus, you'll get a "hot game" alert when there's a game that you just can't miss.