This is an archived article and the information in the article may be outdated. Please look at the time stamp on the story to see when it was last updated.
A black bear rummaged through a neighborhood in Daytona Beach, Florida and helped himself to any food he could find.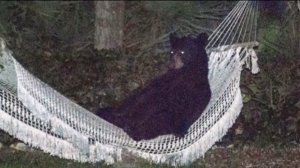 Then he found a comfortable hammock, and after fumbling for a few minutes, figured out how to stretch out for a nap.
The owner of the hammock grabbed his camera and got some great pictures.
At one point, the bear got scared away; but he returned to his favorite resting place a half hour later.