This is an archived article and the information in the article may be outdated. Please look at the time stamp on the story to see when it was last updated.
Attorneys publicly released the files Tuesday on 30 Archdiocese of Chicago priests accused of sexually abusing children.
The 6,000 pages of church documentation date back more than 40 years during a time when the late Joseph Cardinal Bernardin and current Francis Cardinal George were heads of the Chicago Archdiocese.
SEE THE ARCHDIOCESE OF CHICAGO DOCUMENTS HERE
The documents show a pattern of secrecy and concern about activities that involved as many as 30 priests.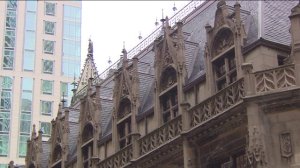 One set of files includes a deposition of Cardinal George who responded this way to a question from the plaintiffs' attorney, Jeff Anderson:
Q: "And you know enough about this topic now to know that once a cleric or an adult offends a child once that they're at risk for re-offending?"
A:  "That's true."
Q: "You've come to know that?"
A: "Yes, I have, sir."
The Cardinal was asked if the attorney for the Archdiocese ever told him who the offending priests were.  He was asked…
Q: "At that time, did he tell you what clerics who had been accused of abusing and found to have been credibly accused of abusing a minor were still in ministry?"
A:  "He did."
Q:  "How many were there?"
A:  "There were, I believe, eight."
The Cardinal was asked when he became aware of possible abuses.  He answers, "When I came to Chicago, the Chicago system was regarded with great respect and the rules permitted someone, with proper precautions in place to protect children, to continue that situation.  I was told it was working well and I had not had time to change it before 2002."
The Cardinal was asked about the more damaging cases he was aware of.  He said, "The one egregious time when the protections of children failed to our great shame was the McCormack case where I had thought he was being supervised and it wasn't adequate."   Former priest Daniel McCormack was convicted of sexually abusing children and some of his cases are still pending in court.
At one point the cross-examination of the Cardinal became very intense when he was questioned by the attorney about priest after priest who re-offended while under the Church's monitoring program.
Since Cardinal George been head of the Chicago archdiocese, 33 priests have been removed.
Church officials say they are concerned for those who suffered, and regret the mistakes made by the Archdiocese.
Tune into WGN-TV and http://wgntv.com for continuous coverage