This is an archived article and the information in the article may be outdated. Please look at the time stamp on the story to see when it was last updated.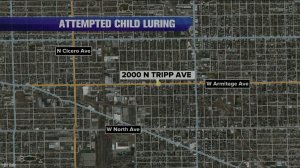 A man showed two children a gun during an attempted abduction.
It happened last night on the 20-hundred block of Tripp, on the city's Northwest Side.
A man was in his SUV, when he approached a 6-year-old and a 7-year-old.
Police say he tried to talk the children into getting in his vehicle, but the kids ran away.
A detailed description of the man was not released, but he drove a SUV with black tape on the windows.