This is an archived article and the information in the article may be outdated. Please look at the time stamp on the story to see when it was last updated.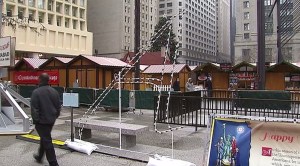 Atheists now have a spot in Chicago's busiest public center.
Wedged between a nativity scene and a towering menorah at Daley Plaza sits an 8 1/2-foot-tall letter "A."
The display was put there by the Wisconsin-based Freedom From Religion Foundation to counterbalance the religious displays.
25 years ago, a federal judge ruled that religious displays could be erected outside the Daley Center if maintained by private groups, which they are.