This is an archived article and the information in the article may be outdated. Please look at the time stamp on the story to see when it was last updated.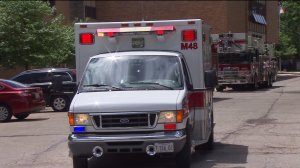 Two dozen students were rushed to the hospital from a middle school in Wheaton.
A school spokesman blames two simultaneous accidents.
A power outage at Edison Middle School caused an air conditioner to give off a burning odor that triggered headaches and light-headedness.
Paramedics took 25 students to Central DuPage Hospital.
Another five were treated at the school and released to their parents.
The school re-admitted students at 1:20.