This is an archived article and the information in the article may be outdated. Please look at the time stamp on the story to see when it was last updated.
CHICAGO — Two people have been arrested  in connection to the murders of a Chicago family.
Police have charged 22-year-old Diego Uribe-Cruz and his girlfriend 19-year-old Jafeth Ramos with six counts of first degree murder.
Police carried out a well-being check February 4th  and found  the victims;  58-year-old Rosaura Martinez, her husband, 62-year-old Noe, their son, 38-year-old Noe Jr., daughter 32-year-old Maria Martinez, and her two sons, 13-year-old Leonardo and 10-year-old Alexis Cruz.
"The victims were not bound or restrained in any manner, leading us to believe that the victims knew and trusted their murderers," said Chief of Detectives Gene Roy.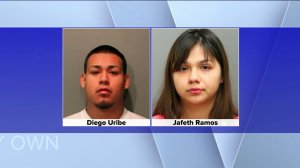 Maria was shot to death. The other five family members were stabbed and beaten. All had defensive wounds, including the children.
After shooting his aunt in the head and both hands, police say the killer moved through the house.
"He proceeded to either beat or stab the other members of the family as he encountered them," said Commander William Dunn
The role Jafeth Ramos played is unclear but police say early on in the investigation, Uribe agreed to a DNA swab used to include and exclude persons of interest.
The couple made no attempt to flee town.  In fact, Uribe actually attended a vigil for the family members he's now accused of coldly and methodically killing.
Police say neither of the suspects has a prior criminal history.
Both are scheduled to appear in bond court tomorrow.
[takeaction]