This is an archived article and the information in the article may be outdated. Please look at the time stamp on the story to see when it was last updated.
WHEATON, Ill. – Suburban authorities have arrested a suspect and are searching for two more after a college student was kidnapped and robbed.
The DuPage County State's Attorney and Glen Ellyn's police department  say the 21-year-old victim was walking out of a Starbucks around 10 a.m. on Friday August 26th in downtown Glen Ellyn when he was allegedly approached by a small SUV occupied by three men.
Two men exited the vehicle, and reportedly ordered the student into the vehicle at gunpoint.  They then drove to several ATMS and withdrew more than $1,500 from the victim's bank account using his ATM card.
The suspects then drove to Chicago and released the student unharmed around 11:30 a.m.
The student then called 911.
18-year-old Abeet Ramos was taken into custody on Tuesday. He has been charged with one count of aggravated kidnapping, one count of armed robbery and one count of aggravated unlawful restraint.  He is being held on three million dollar bond.  He is due back in court September 13.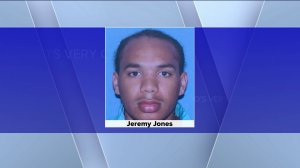 Authorities are currently looking for Ramos' accomplices, 32-year-old Jeremy Jones, 23 and an unnamed male juvenile.
Anyone with any information is asked to contact the Glen Ellyn Police Department at (630) 469-1187.