This is an archived article and the information in the article may be outdated. Please look at the time stamp on the story to see when it was last updated.
GLAAD declared today Spirit Day — a day to stand united against bullying. In that spirit, here are at some anti-bullying apps.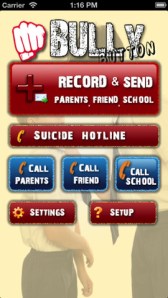 Bully Button
99 cents for iPhone
If you or someone nearby is being bullied, use this app to record the audio, and then send it to a teacher or a parent with the push of a button. You can also program other phone numbers into the app, and some are pre-programed, like the suicide hotline.
Free for Android and iOs
Keep your child safe from inappropriate content with the Mobicip Safe Browser. Simply download the app to your child's phone, and adjust the settings accordingly. There are settings for elementary school-aged students, middle school-aged students and high school-aged students.
Upgrade to premium and get emailed reports detailing your child's online browsing history.
Free for Android and Blackberry
Whether you're being cyber-bullied or just annoyed with someone you don't want to talk to, Block 'em can help. Use this app to block messages and calls from people you don't want to hear from.