This is an archived article and the information in the article may be outdated. Please look at the time stamp on the story to see when it was last updated.
Another possible case of flesh-eating disease — triggered by a powerful street drug — has cropped up in the Chicago area.
A doctor in McHenry County says a heroin user he treated for large lesions might have injected the drug Krokodil.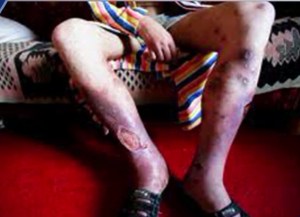 In recents weeks, five people have checked into a Joliet hospital with symptoms of the flesh eating disease from taking Krokodil.
RELATED: 3 treated for flesh eating drug in Will County
The drug is made from gasoline, paint thinner and butane and is considered a cheap alternative to heroin.
Emergency room doctors say once a person starts using Krokodil, they're not expected to live past two years.