This is an archived article and the information in the article may be outdated. Please look at the time stamp on the story to see when it was last updated.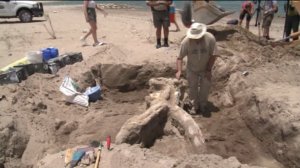 What happens at a bachelor party usually stays at a bachelor party.
But sometimes, something so big happens that you have to tell someone.
A few guys were partying in New Mexico when they found a giant fossil.
This is the skull of a Prehistoric elephant, called the Stego-Mastodon.
It was buried, along with its tusks, in the sand at a state park.
The bachelor party contacted a professor at a local university, who got a crew to go excavate it.
Paleontologists say this mastodon was 9 feet tall and weighed about 13,000 pounds.