This is an archived article and the information in the article may be outdated. Please look at the time stamp on the story to see when it was last updated.
Amateur video shows the moment the ground gave way in Baltimore causing part of a street to collapse.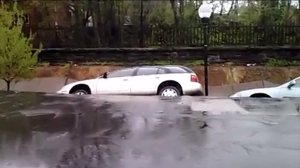 It happened on Wednesday.
At least 10 cars went down a steep bank, onto railroad tracks.
No injuries were reported, although people living nearby were forced to leave and train travel was suspended.