This is an archived article and the information in the article may be outdated. Please look at the time stamp on the story to see when it was last updated.
After nearly four decades in office, Ald. Richard Mell submitted his resignation letter effective July 24, Mayor Rahm Emanuel's office confirms.
"Alderman Mell has served the City of Chicago and the 33rd Ward with distinction for nearly 40 years," Emanuel said in a statement. "In a city known for its colorful characters, Alderman Mell is a larger than life Chicago character who, just like the Billy Goat and Second City, is a Chicago institution and, in his own way, he has defined what public service and class look like."
"Always at his desk – sometimes on it – Alderman Mell has served the residents of the 33rd Ward well for nearly four decades. As a Chicagoan, as a colleague, as mayor and as a friend, I will miss him. Alderman Mell may be succeeded in the City Council, but he is a one-of-a-kind who can never be replaced," he said.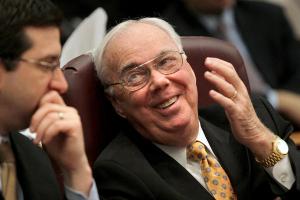 Mell, 74, has been toying with the idea of stepping down for several years and speculation has focused on his daughter, state Rep. Deborah Mell, being appointed to replace him in the long Chicago tradition of political nepotism.
Emanuel ultimately gets to choose who will replace Mell, and in a statement, he described the process by which he'll do so.
Starting at 9 a.m. Friday, any eligible resident of the 33rd Ward will be able to apply for the alderman position. The application deadline is 5 p.m. on Thursday, July 11. Then, the mayor will appoint a community-based commission to review the applicaitons and submit a list of finalists for him to choose from.
This process is identical to the one used to find a 2nd Ward Alderman replacement after Sandi Jackson resigned.
The mayor expects to have the new alderman sworn in at the City Council meeting on July 24.
A spokesman at Mell's office told WGN that the alderman will be holding a news conference on Friday at noon to "answer everyone's questions at the same time."
The Chicago Tribune contributed to this report.