This is an archived article and the information in the article may be outdated. Please look at the time stamp on the story to see when it was last updated.
The video is grainy and shot from far away, but there's no mistaking what it shows: someone jumping out of a plane's wheel well.
The Hawaii Department of Transportation on Tuesday released surveillance video taken at Kahului Airport, on the island of Maui, on April 20. It shows a stowaway climbing out of a plane and walking around a tarmac.
The teenager, 15-year-old Yahya Yusuf, survived the nearly five-hour flight from San Jose, California. He told authorities that he crawled into the wheel well of the Hawaii-bound Boeing 767 and lost consciousness when the plane took off.
He endured subzero temperatures at oxygen-depleted heights as high as 38,000 feet, authorities believe.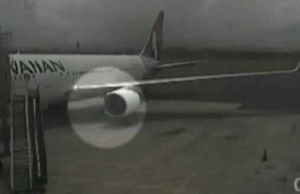 The teen told investigators that he was trying to get to Somalia to see his mother and had no clue which plane went where, a law enforcement official told CNN. He is said to have hopped a fence at San Jose International Airport shortly after 1 a.m. April 20 and stayed on the grounds for six hours without getting caught.
The teen spent time recovering at a hospital in Hawaii and was in the custody of the state's child welfare agency.
Over the weekend, a Department of Human Services spokeswoman said he was safe and no longer in the state.
Last month, the teen's father said he looked forward to bringing his son home to his family in California.
TM & © 2014 Cable News Network, Inc., a Time Warner Company. All rights reserved.