This is an archived article and the information in the article may be outdated. Please look at the time stamp on the story to see when it was last updated.
CHICAGO – An elderly crossing guard on the city's North Side is out of a coma and recovering after she was hit by a car.
Janet Gould, 80, was hit from behind Monday afternoon as she was escorting kids across the street at the intersection of Clark Street and Bryn Mawr Avenue.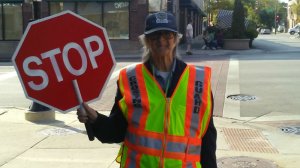 Gould was rushed to St. Francis Hospital in Evanston, Ill. Her daughter said she emerged from the coma and is making steady progress.
While her family is upset the 29-year-old ride share driver received only one ticket, they are thankful for all the support from so many people.
The Office of Emergency Management and Communications issued the following statement:
The Office of Emergency Management and Communications is deeply saddened by the tragic accident in which our employee, Janet Gould, was very seriously injured. In her role as a crossing guard with the City of Chicago, Mrs. Gould has been dedicated to ensuring the safety of children walking to and from school every day for nearly 30 years. We extend our heartfelt wishes for her recovery and our thoughts and prayers are with Janet, her husband, family and friends at this time.