This is an archived article and the information in the article may be outdated. Please look at the time stamp on the story to see when it was last updated.
By Peter Nickeas and Deanese Williams-Harris Tribune reporters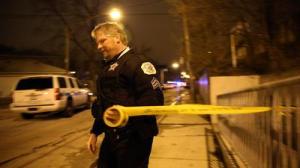 Eight people were shot Thursday afternoon and Friday morning from the Irving Park neighborhood on the Northwest Side to the West Pullman neighborhood on the Far South Side, police said.
A man walked into Our Lady of the Resurrection Hospital with wounds to his torso about 12:20 a.m. Chicago Police Department News Affairs Officer Hector Alfaro said. The man was shot near the intersection of Irving Park Road and Avondale Avenue, He was transferred to Advocate Illinois Masonic Medical Center.
Two people were wounded within blocks of each other in West Pullman today, police said.
A 37-year-old man was shot about 10:15 p.m. in the 12300 block of South Emerald Avenue about 10:15 p.m., Alfaro said. Someone saw a car speeding from the scene and the shooting may have been a drive-by but police aren't certain. They responded to a call of a person shot and found the man on the sidewalk bleeding from his body and arm.
About 5 p.m. in the same neighborhood, in the 12000 block of South Lafayette Avenue, two 19-year-old men were shot in the legs, said Police News Affairs Officer Veejay Zala.
All three were taken to Advocate Christ Medical Center in Oak Lawn in serious-to-critical condition, according to police and the Chicago Fire Department. It's not clear if the shootings are related.
About 7:15 p.m., a 16-year-old boy was shot in the left thigh on the 1500 block of East 62nd Street, police said. The boy was taken to Northwestern Memorial Hospital where his condition has been stabilized, police said.
Early reports said the boy was standing on the sidewalk when he heard gunshots and soon after felt  pain, police said.
Another man, whose age wasn't available, was shot about 4 p.m. in the South Austin neighborhood on the West Side. He was robbed of some cash and shot in the left shoulder in the 100 block of North Mason Avenue and taken to Mount Sinai Hospital with a wound to his left shoulder, Alfaro said.
About 3:10 p.m. a 44-year-old man was shot in the 3000 block of Carrol Avenue in the East Garfield Park neighborhood. He was taken to John H. Stroger Jr. Hospital of Cook County in serious condition.
About 1 p.m. a man was shot in the 3500 block of West North Avenue in the Logan Square neighborhood. The 36-year-old was shot in the stomach more than once while standing on a sidewalk, Alfaro said. He's in stable condition at Mount Sinai Hospital.
pnickeas@tribune.com
Twitter: @peternickeas
Twitter: @neacynewslady