This is an archived article and the information in the article may be outdated. Please look at the time stamp on the story to see when it was last updated.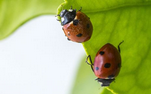 MORGANZA, Md. – Seven students have been charged with burglary after a senior prank led them to releasing tens of thousands of ladybugs in their school.
Reports from the St. Mary's County Sheriff's Office say five students broke into Chopticon High School early in the morning by forcing a door open. Two other students waited outside in a car.
It was found that one of the students ordered the ladybugs off the Internet.
According to WUSA four of the suspects ere charged with 4th degree burglary, property destruction under $1,000 and disruption of school actives. The remaining three will be charged by criminal summons.