This is an archived article and the information in the article may be outdated. Please look at the time stamp on the story to see when it was last updated.
CHICAGO — Chicago police are questioning a person of interest after a driver struck and killed a bicyclist in West Rogers Park Sunday night before fleeing the scene.
Police said a 67-year-old man was stopped on his bicycle at the corner of Devon and McCormick, just steps from the Lincolnwood border, when he was struck by a car around 5:20 p.m. Sunday. The driver then continued east on Devon, fleeing the scene without calling police or asking for help.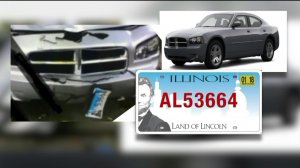 First responders took the victim to Saint Francis Hospital, where he was pronounced dead. His identity has not yet been released.
Like the victim, Joe Pace is also in his late 60s. He says he bikes about 15 miles everyday on the path that snakes along the North Shore channel, routinely pedaling through the intersection.
"It has to be better than this. You've got the turn signal, the green, people really pay attention. That was just a terrible accident," Pace said.
The vehicle involved in the hit-and-run is described to be a silver Dodge Charger with an Illinois license plate: AL5-3664, and the Major Accidents Unit is now investigating. Anyone with information is urged to contact police.