This is an archived article and the information in the article may be outdated. Please look at the time stamp on the story to see when it was last updated.
Six people have been injured in an incident at a FedEx facility in Kennesaw, Georgia, a spokesman for the hospital that took the injured said Tuesday morning.
CNN affiliates in Atlanta reported that there was a shooting at the FedEx facility, about a 25-mile drive northwest of downtown Atlanta.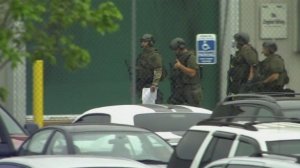 FedEx is "aware of the situation," company spokesman Scott Fielder said when asked about reports of a shooting.
"The primary concern is the safety and well-being of our team members, first responders and others affected," Fielder said. "FedEx is cooperating with authorities."
The six injured people were taken to Wellstar Kennestone Hospital, hospital spokesman Tyler Pearson said. One of the six was in surgery, he said.
CNN's John Branch and Shawn Nottingham contributed to this report.
 TM & © 2013 Cable News Network, Inc., a Time Warner Company. All rights reserved.