This is an archived article and the information in the article may be outdated. Please look at the time stamp on the story to see when it was last updated.
A huge fire engulfs a food factory in Southeast Wisconsin.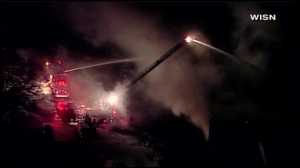 More than 300 firefighters and 40 paramedics responded to the fire at Echo Lake Farms produce company in Burlington. That's about 75 miles north of Chicago.
The fire broke out around 6 p.m. Wednesday at a storage building next to the main factory.
It's being called an 8-alarm fire with 80 fire departments called to help battle it.
Around 50 people from 10 homes and an apartment complex were evacuated because of concerns over smoke inhalation.
Three-hundred jobs at the factory could be in jeopardy due to the fire.
Authorities say the fire likely resulted from and was fueled by oils that are not involved in the food-making process.
Echo Lake Food process eggs and egg products. The company's been around since 1941.
No injuries have been reported.