This is an archived article and the information in the article may be outdated. Please look at the time stamp on the story to see when it was last updated.
CHICAGO — A lawsuit was filed Thursday against a teacher and the Chicago Board of Education by the family of a fourth grader who said he was beaten in school. Jomuary Champ, 9, attends Tilton Elementary in West Garfield Park. His family said he had welts from being beaten 20 to 30 times with two belts, after being slapped and dragged into a school bathroom last September. The lawsuit said the teacher brought in a friend from outside of the school to help her carry out the beating. A police source confirmed that his teacher, Kristen Haynes, was charged with battery and child endangerment. Her friend, Juanita Tyler, 56, was charged with battery. "She commanded him, 'Pull down your pants.' When he refused, she lost her temper, and began striking him hard with two large leather belts which she held with the buckles in her right hand," attorney Al Hofeld Jr. said. The lawsuit alleged that it was a well-known practice by the fourth grade teacher to use the belts to discipline students. "The belts are brown and black. She called them Mr. Brown and Mr. Black," Asia Gaines, Jomaury's mother, said. On one particular day, it wasn't clear to the 9-year-old what he had done wrong, but he had been in trouble days earlier. "She was upset with him because he was laughing in class and folded his arms when she spoke to him," Hofeld said.
Tyler is a distant relative of Jomuary, but he said he did not know her. Jomuary's family said he was partially hospitalized for two months after the beating, and that he now takes medication for anxiety. They said he had no significant history of discipline problems, and has been diagnosed with post traumatic stress disorder.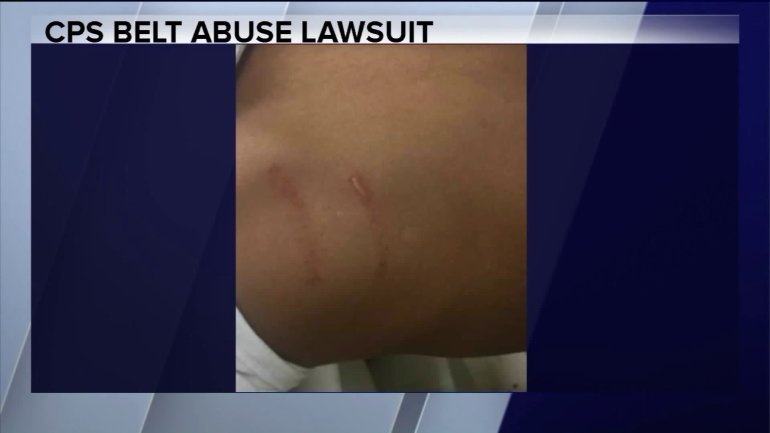 She said an image of one of his injuries doesn't show a full picture of what her son has been dealing with. Anxiety medication and panic attacks are now the norm. "He can't eat, he can't sleep. He's bed wetting every night and he's scared to see the boogie man," Gaines said. Chicago Public Schools has released the following statement regarding the incident:
"Every student deserves a safe learning environment and the district will not tolerate actions that place students in the way of harm. After learning of deeply concerning allegations, the district removed the employee from her position and launched a full investigation. While the investigation remains ongoing, the district is working directly with the school to ensure support is available for the student and family."