This is an archived article and the information in the article may be outdated. Please look at the time stamp on the story to see when it was last updated.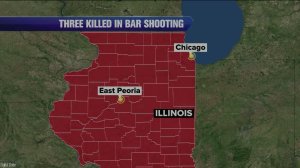 An off-duty FBI agent shot and killed a man who opened fire in a bar in East Peoria.
It happened Saturday night.
The Fifth Quarter bar was filled with people attending a high school reunion.
Police say that's when 40-year-old Jason Moore walked in and shot and killed his ex-wife and her boyfriend.
The FBI agent was inside the bar and shot Moore.
Police say it could have been a lot worse if the agent didn't intervene so quickly.
State officials and East Peoria police are now investigating the incident.