This is an archived article and the information in the article may be outdated. Please look at the time stamp on the story to see when it was last updated.
CHICAGO – An apparent explosion sparked a fire that injured three men and displaced more than a dozen people on the South Side Saturday morning.
It took firefighters several hours to battle the two-alarm fire in the 9600 block of S. Ewing Ave. in Chicago's East Side neighborhood. At one point more than 100 firefighters battled the blaze.
Firefighters say the fire may have started with an explosion in the basement just after 6:00 a.m. Saturday morning.
Neighbor Marie Tellez said a blast rattled the block, shaking her house.
"I thought a truck hit the house next door to me, that's how loud it was," Tellez said.
Through the thick smoke, neighbor Brandon Franklin said he saw some of the victims as they escaped the fire.
"They said, 'it exploded, our apartment exploded,'" Franklin said. "My heart just kind of stopped because it looked like he was in pain."
One man was hospitalized in critical condition with severe burns over 25 percent of his body and was treated at the University of Chicago Medical Center. Another man was injured when he jumped out of a first floor window, and a third man was hospitalized with minor cuts and bruises.
Firefighters also rescued two dogs.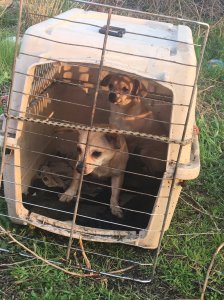 The Chicago Fire Department says part of the apartment building collapsed after everyone was out. Chicago Fire Department District Chief Donald Hroma said free-flowing gas, electricity and compromised structure made for a dangerous situation – and he's thankful no one died.
Authorities say there were six apartments in the three-story brick building. More than a dozen people were living in the apartments, and now they'll be looking for new homes.
Investigators are working to determine the cause of the explosion.