This is an archived article and the information in the article may be outdated. Please look at the time stamp on the story to see when it was last updated.
Contenders for Illinois' 2nd Congressional seat are making their final push to Chicago area voters today.
Candidate Anthony Beale greeted commuters this morning at 79th Street and the Dan Ryan Expressway.  Beale says he is confident that his record as a Chicago Alderman speaks for itself, and he is not surprised or discouraged by low early voter turnout.
"You've got to expect that with a special election, and the fact that the approval rating for Congress right now is at 11-13%," Beale said.  "People are definitely fed up because they don't see anything happening."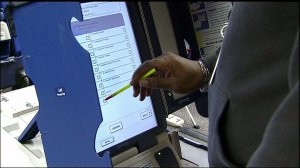 Candidate Debbie Halvorson says voters are ready for a fresh start in the district which covers part of the South Side, Cook, Will and Kankakee Counties.  She vows not to become a Congressman in hiding.
"I've been to Congress and I know how we need to bring the parties together for the betterment of this country," Halvorson told WGN.  "They're saying, finally someone who wants to talk about getting along for a change and putting ethics and leadership back into this government."
Former State Representative Robin Kelly also spent this morning campaigning at a train station, followed by a series of interviews at her campaign headquarters.  She has benefitted from New York Mayor Michigan Bloomberg's anti-gun super-PAC, which has poured $2 million into this race.  The super-PAC's ads blasted two opponents for receiving NRA support.  Kelly makes no apologies for that.
"I'm the right person to stand along with the President," Kelly said.  "I will be his true ally in what he's trying to accomplish and what I think is good for the 2nd Congressional District — which is safe neighborhoods and economic development mainly."
It is a crowded field of candidates to replace former Congressman Jesse Jackson Jr.  Jackson resigned in November and pleaded guilty last week to misusing $750,000 in campaign funds.
14 Democrats and 4 Republicans will appear on the ballot.
The Democratic contenders include Kelly, Halvorson, Beale, Ernest Fenton, Victor Jonathan, Larry Pickens, Joyce Washington, Rev. Anthony Williams, Fatimah Muhammad, Clifford Eagleton, Mel Reynolds, Charles Rayburn, John Blythe and Gregory Haynes.
On the Republican side: Beverly Reid, Lenny McAllister, Paul McKinley and Eric Wallace.
In-person absentee voting will be held today at 69 West Washington. Mail-in absentee ballots must be postmarked by tonight.
Polls will be open throughout the 2nd District from 6 a.m. to 7 p.m. tomorrow.