This is an archived article and the information in the article may be outdated. Please look at the time stamp on the story to see when it was last updated.
**WARNING: Story contains graphic details.
CHICAGO — A father will appear in court Friday for the murder of his 2-year-old son in Little Village after he was found dead with his throat cut.
Rolando Ortiz, 37, was charged with one count of first-degree murder in connection to the death of his son, Mateo Garcia Aguayo.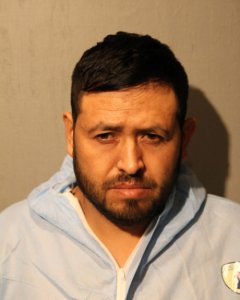 Officers were called to the 2700 block of South Avers around 2 p.m. on Wednesday. When officers arrived, the child was unresponsive and was pronounced dead at the scene. The medical examiner said Mateo died from a wound to the neck.
During a press conference, officials said Ortiz was frustrated because he couldn't sleep and the child was running around. Ortiz then put the boy on the floor, held him down and began stabbing him to the point of near decapitation. He then realized what he had done and made an attempt to cut his own wrists, police said.
Police said Ortiz put the child inside a garbage bag and tried to contact his wife at work. He then contacted his wife's sister and admitted to killing the child, according to police.
The sister then contacted other members of the child's family and told them to check on the child.
Two family members made their way to the second floor of the building and saw that Ortiz was bleeding from his wrists.
The family then called 911 and Ortiz left the scene. At some point, he got into his car and starting driving south. He later told police he was trying to get to Mexico.
Police found Ortiz after a traffic stop by the FBI and state police in Kankakee, Ill. He was brought back to Chicago for questioning.
Police said Mateo had six siblings. None of the other children were home at the time of the incident.
A memorial for Mateo continues to grow outside his home.