This is an archived article and the information in the article may be outdated. Please look at the time stamp on the story to see when it was last updated.
By Saeed Ahmed and Kevin Conlon, CNN
A married couple yelling "revolution" gunned down two Las Vegas police officers at a pizza restaurant, then ran across the parking lot to a Walmart, where they killed a shopper at the store's entrance.
The duo's Sunday morning shooting rampage ended when the wife fatally shot the husband and then herself as police closed in.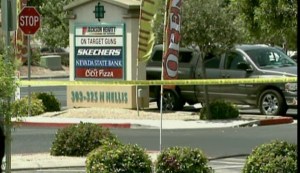 A day later, police don't know — or haven't disclosed — the pair's motive. Witnesses told police the shooters said "This is a revolution" during their attack.
A law enforcement source told CNN the couple held extremist views toward law enforcement.
Late Sunday night, police — black bands around their badges in mourning — cordoned off the area outside an apartment in downtown Las Vegas. Neighbors say the couple lived there and that police had deployed a flash grenade at the home.
Authorities, however, deferred all questions to a news conference they have scheduled for 10 a.m. (1 p.m. ET).
"This was a senseless and cruel act killing three innocent people," said Las Vegas Mayor Carolyn Goodman. "Two who dedicated their lives to protecting all of us in our community and one who was innocently going about her daily life."
'Simply having lunch'
The pair began their attack about 11:20 a.m. when they opened fire inside a CiCi's Pizza where the officers were eating lunch.
"I just sat down to have lunch. The officers were sitting in front of me, at the table right next to me — and this man came in out of nowhere," a dazed Sheree Burns told CNN affiliate KTNV.
"I thought he was going to get a drink, the way he walked up and walked past them. And then he turned around, pulled a gun on his right and shot the bald officer in front of me."
The slain officers are Alyn Beck, 41, and Igor Soldo, 31. Both were married with children: Beck left behind a wife and three children; Soldo, a wife and a baby.
Sheriff Doug Gillespie said one officer was able to return fire.
"What precipitated this event, we do not know," he said. "My officers were simply having lunch."
The suspects took the officers' guns and ammunition, Assistant Sheriff Kevin MacMahill told reporters. They "made a statement — something to the effect of, 'This is a revolution.'"
'That man was crazy'
As they walked out, they passed Alvaro Lopez.
"They had a backpack and I saw a gun in their hand," Lopez told CNN affiliate KLAS. "He just told me to tell the cops that it was a revolution and that he'd just killed two cops inside CiCis."
The pair ran over to a Walmart across the parking lot. At the store's entrance, they killed a woman. Her name has not yet been released.
Shoppers rushed toward the exit.
Pauline Pacheco saw the armed man and grabbed her father.
"We saw when the man was walking," she told KLAS. "He was shouting, yelling bad words, and suddenly he had a gun.
"It was terrible, it was terrible. That man was crazy."
Officers converged and exchanged fire.
The pair retreated to the back of the store and took their own lives. MacMahill, the assistant sheriff, called it a "suicide pact."
'Emptiness in our heart'
Las Vegas law enforcement aren't immune to officers falling in the line of duty. But to have two die in a single incident has left the department shocked and shaken more than usual.
Both Walmart and CiCi's issued statements of condolences, as did lawmakers.
Patrol officers in the city usually work alone. But, at least for the next few days, they will be riding in pairs, Gillespie said.
"We still have a community to police and we still have a community to protect," he said Sunday night. "We will be out there doing it with our heads held high but with an emptiness in our heart."
CNN's Jack Hannah reported from Las Vegas; CNN's Shimon Prokupecz; Matthew Stucker and Janet DiGiacomo contributed to this report.
TM & © 2014 Cable News Network, Inc., a Time Warner Company. All rights reserved.