This is an archived article and the information in the article may be outdated. Please look at the time stamp on the story to see when it was last updated.
CHICAGO — Bail was denied for a 17-year-old charged with murder in connection to the fatal shooting of a Northside College Prep student.
Luis Castejon, 17, was taken into custody around 11:30 a.m. Wednesday and charged as an adult with first-degree murder. He appeared in bond court Thursday.
Emanuel Gallegos, 17, was a passenger in a vehicle traveling near the 4400 block of West Addison Street around 5:30 p.m. Monday. Gallegos left school and got into a friend's car to pick up a friend at nearby Schurz High School. That friend told police he had a run-in with Castejon earlier that day.
Jamie Santini, Cook County assistant state's attorney, said the friend recognized Castejon as one of the people who approached him as he waited for his ride and demanded to know his gang affiliation. He denied any affiliation and the group, including Castejon, walked away, Santini said.
The State's Attorney's Office said shortly after Castejon opened fire at the car Gallegos was riding in, striking him in the neck and right torso.
The two teens did not know each other.
Gallegos was taken to Illinois Masonic Hospital in critical condition, and later died.
Police said Castejon is a member of the "Four Corner Hustlers" gang, but has no previous criminal record. If convicted, he faces life in prison.
On Wednesday, a photo was released of the suspected gunman. In the photo, the male suspect appears to be holding a handgun, wearing a Boston Red Sox cap and a blue North Face jacket.
Gallegos was a junior at Northside College Prep High School, a selective-enrollment Chicago Public School. A GoFundMe page was started to help his family.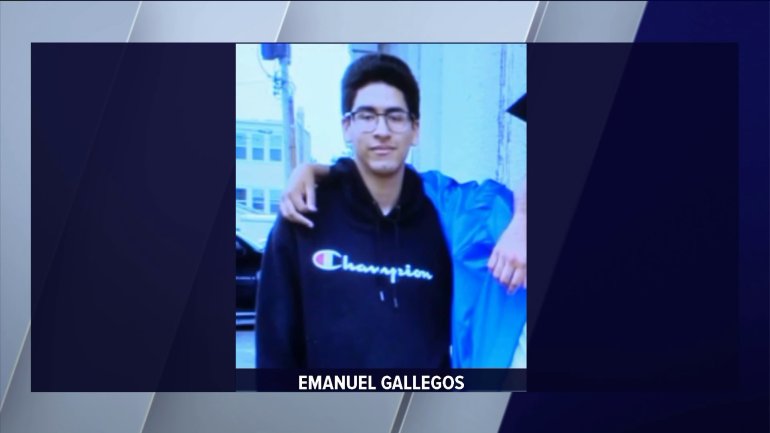 Those who knew Gallegos said they were heartbroken, and his family was in a state of disbelief. A family member said he was just at the wrong place and the wrong time.
The following services will take place in honor of Gallegos:
Visitation
Friday, March 1
Elms Funeral Home
7600 W. Grand Ave.
Elmwood Park, Ill. 60707
4 p.m. to 9 p.m.
Mass
Saturday, March 2
St. John Bosco
2250 N. McVicker Ave.
Chicago, Ill. 60639
10 a.m.
Cemetery
Queen of Heaven
1400 S. Wolf Road
Hillside, Ill. 60162