This is an archived article and the information in the article may be outdated. Please look at the time stamp on the story to see when it was last updated.
Kelly and Shawn Schaefer celebrate their wedding. (Courtesy of Kelly Schaefer.)

Kelly described Shawn as the "rock" of their relationship. Shawn described Kelly as the "rock star." (Courtesy of Kelly Schaefer.)

Shawn and Kelly spend as much time together as possible. "I feel like we get a lot of good, quality time together at a stage where we hopefully have a lot of our life ahead of us," said Shawn.

Kelly Schaefer with friends and family on her wedding day. (Courtesy of Michelle Weidenbenner.)

Author Michelle Weidenbenner said until Kelly's story everything she had written was fiction. "In nonfiction you have to make sure the important facts are correct," she said. (Courtesy of Michelle Weidenbenner.)

Kelly with her aunt, Michelle Weidenbenner. (Courtesy of Michelle Weidenbenner.)

Kelly Craig was confined to a wheelchair after a multi-vehicle accident. (Facebook: Kelly Craig Schaefer.)

More than a dozen people, including Kelly Craig, her boyfriend and her brother, were involved in a car crash with a drunk driver. (Facebook: Kelly Craig Schaefer.)

Kelly Schaefer, then Kelly Craig, was seriously injured in a car crash July 10, 1999. She lost the use of her limbs except her left arm, bicep and wrists. "I was right-handed before the accident," she noted. (Facebook: Kelly Craig Schaefer.)
JASPER, Ind. — In January of 2000, Shawn Schaefer, then a senior at the University of Illinois, was eating breakfast in Champaign-Urbana when he saw on television a young woman, Kelly Craig, who in an interview with ESPN was discussing a life-changing accident that had confined her to a wheelchair.
For Shawn, that morning later proved to be just as life changing.
Kelly, at the time an Indiana University cheerleader originally from Orland Park, Ill., was one of more than a dozen people involved in an accident with a drunk driver on July 10, 1999. The driver of Craig's car was killed; her brother Jason suffered a brain injury and now uses a walker. "He's definitely a different Jason," she said.
Kelly's boyfriend Luke Recker, an Indiana basketball star, recovered from his injuries. Craig, on the other hand, wasn't so lucky, it seemed.
Paralyzed almost entirely from the neck down, Kelly now has the use of only her left arm, bicep and wrists, but not her hand, and does not consider the accident a blessing in her life.
"But it has brought about a lot of blessings," she said.
Months after the crash, she and Luke were on ESPN detailing the accident and the dangers of drunk driving. The two had broken up months before. The network conducted the interview anyway. "They didn't really pry," Kelly, now 35, recalled. Kelly handled the interview with striking courage and grace, Shawn said.
"Here was this woman who'd had her world turned upside down," recalled Shawn, now 37. "She just radiated this positive energy." Shawn made a bold decision: He would send her a note telling her how much of an inspiration she was to him.
The note wasn't delivered until nearly seven years after he first saw her on television. Shawn had tried early on, but couldn't track her down. He knew Kelly Craig lived in Jasper, Ind., but didn't know her mother's last name was Krempp. Kelly's mother had remarried after she and her daughter moved from Orland Park. He was searching for Craig, not Krempp.
But on April 11, 2007, a business trip took him to Indianapolis, and a light bulb went off. "Whatever that definition is to do the same thing again and expect different results, is that 'insane'?" Shawn joked.
He tried again. A Staples employee in Jasper, about two- and-a-half hours from Indianapolis, gave him directions to Kelly's house. He left the note in the mailbox, got in his car and called his cousin. Shawn's cousin told him to turn around and deliver it to the door. He did.
Kelly's mother answered; Kelly herself hid in the other room, not considering herself presentable because she had a beauty facial mask on. Shawn told Kelly's mother he was not a stalker, and Kelly's mother believed him. He got back in his car and drove off. Ten minutes later, his phone rang. Kelly.
"My mom gave me the letter to me and persuaded me to call him back," Kelly recalled. "Typically I wouldn't do that."
Added Kelly, "I didn't imagine myself in a wheelchair with a significant other," said Kelly. "My prayer was, 'Dear God, please let me walk again so I can have a husband.' But when Shawn entered the picture, he made me feel like the wheelchair didn't exist."
Shawn and Kelly Schaefer married on Sep. 6, 2009. Sticking to a plan that had required some convincing during the engagement, Shawn picked his wife up from her wheelchair during the reception and carried her around the dance floor to the Rascal Flatts song "Here." It was the couple's first dance. The song's tempo was perfect: not too slow, not too fast, Shawn said. Friends and family surrounded them to watch.
The TV interview that had tied the two together years before was a time in which Kelly had let down emotional walls, if only a little, to detail how drastically her life had changed. But those walls still remained for years afterward. When she and her aunt, author Michelle Weidenbenner, first discussed writing a book together about Kelly's life, Kelly was hesitant.
"Once Kelly met Shawn, I think she became more comfortable with who she was," Weidenbenner said. Eventually "she began to want to speak more, and say, 'Look at me, I'm no different than you just because I sit and you stand.'"
"It was a blessing in disguise," said Kelly. "Now that Shawn's in the story, it makes the story complete."
Gradually Weidenbenner got more comfortable with the questions, and Kelly more comfortable with the answers. And earlier this month, Weidenbenner and Kelly's nonfiction book, "Fractured Not Broken," was released.
For Shawn and Kelly, only Weidenbenner could be trusted with the story. "That put a lot of pressure on me," said Weidenbenner, laughing. But the author said telling Kelly's story was "God's will."
"I think all my other books were just practice for this one," Weidenbenner said.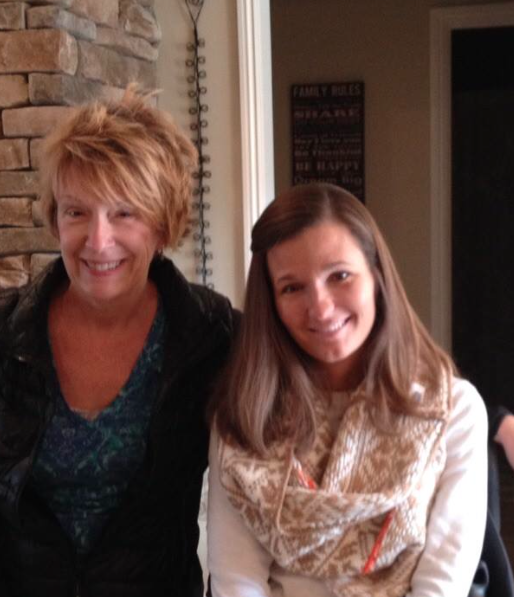 Kelly and Shawn hope the tale of their relationship, and of Kelly's perseverance, will help inspire those who read it. Shawn considers it "sharing your treasure with others."
Shawn and Kelly are both teachers now who have similar schedules and times off to enjoy each other's company. They're expecting two children, whom they adopted from the Democratic Republic of the Congo, a process Kelly labeled as "complex."
"If she was calling it 'complex,' she's able to speak more concisely," Shawn said.
The couple harbor little resentment about any bureaucratic problems they may have had along the way, and their frustration yields to a bigger picture. Shawn and Kelly, who like Michelle share a strong Christian faith, consider it "living out scripture" to give a home to a child in need. To them, that's the purpose behind everything.
"When we got married the priest said our ultimate goal in marriage was to get each other to heaven," recalled Kelly. "That stuck with me."
Kelly credits her faith as a driving force behind her internal strength. She used to think, "Am I so much work now that nobody's going to want to be with me?" Weidenbenner recalled. But her fortunes and outlook changed, both through Kelly's own perseverance and with the help of Shawn. "Her story not about her disability. It's about her remarkable ability to rise up and overcome challenges," Shawn said.
"We all have a story," Kelly said. "Everybody has peaks and valleys. It's about knowing it could always be always worse — that can get you through the day."
Kelly and her aunt credit Shawn for much of her rehabilitation, both physical and emotional. Shawn meanwhile says she had it in her all along.
"She's the one that's the rock star; I'm just along for the ride," Shawn said.
Schaefer and Weidenbenner's book, "Fractured Not Broken,"  detailing Kelly's life after the 1999 accident, is on bookshelves and available online now.