This is an archived article and the information in the article may be outdated. Please look at the time stamp on the story to see when it was last updated.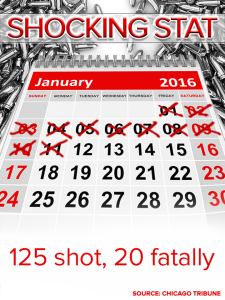 CHICAGO — Chicago's violent start to 2016 continues after more shootings occurred Tuesday night.
There have been at least 125 people shot in Chicago in the first week and a half of the new year, 20 of them fatally, according to data kept by the Tribune.
That's more than twice the number as last year.
A police spokesman blames it on gang conflicts driven by social media and petty disputes.
They say more gang enforcement teams are being deployed to help avoid violent acts of retaliation.
Click the Take Action button below to see how you can help stop gun violence in Chicago:
[takeaction cause="stop-gun-violence" ]