This is an archived article and the information in the article may be outdated. Please look at the time stamp on the story to see when it was last updated.
CHICAGO — It may be an early morning – even if it's afternoon – for some Lollapalooza fans today.   Friday night's headliners, after shows and other fun are only a few hours old, and yet there's plenty more to be had ahead today.
Luckily for all involved, Dark Matter Coffee has rolled their truck into Grant Park and set up shop as part of the festival's "Chow Town."  They're dispensing their signature iced coffee, affectionally called Chocolate City, to anyone and everyone in need of a cool caffeine boost.
"We're a colorful brand," says Dark Matter's president Jesse Diaz.  And that color – and love for music – fits right in on Columbus Drive.  The coffee masterminds have done over 20 collaborations with musicians involving a special edition coffee and, sometimes, a mixtape.  (Their upcoming Motorhead roast will coincide with Riotfest.)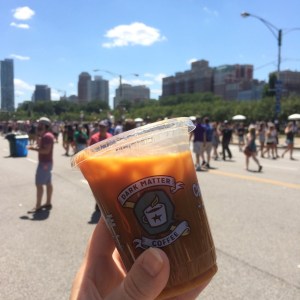 So it seems odd that this would be the outfit's first year at Lolla.  But their iced coffee (which comes with cream and sugar if you'd like) has enough firepower to make up for lost time.
And sluggish festival goers who may be moving a bit slow this morning won't lose any more time either after a cup – or two.
"East some bread and come get some black coffee,"  Jesse says.
Dark Matter and their Chocolate City Iced Coffee is located at the North End of Chowtown at Lollpalooza.  They can be found at Star Lounge and The Mother Ship in West Town and Osmium in Lakeview.  Also coming soon to the West Loop.  Check them out online here: http://www.darkmattercoffee.com/​